| | | |
| --- | --- | --- |
| | Me and My Family | |
This is a picture of me with eight of my ten grandchildren, from left to right
Top row : Naomi Singer (13), Jack Galatis (8), Michelle Collins (15, Mayoress)
Bottom row: Benjamin Singer (12), Toby Singer (8), Alixe Galatis (4), Emma Collins (12), Sarah Singer (14).
I have lived in various houses in the Borough, but always in Tottenham, since 1948. My five children, Linda, David, Martin, Susan and Jenny all went to Tottenham Schools and my eldest Linda is now a science teacher at Northumberland Park School, a Tottenham Comprehensive.
For many years I was a housewife, looking after my children and others. I had no qualifications and no intellectual challenges besides being an active member of the Labour Party. When my youngest child, Jenny, started school I decided to change all that. I worked in a voluntary capacity at her school and studied for my O levels (the equivalent of GCSE's). I then went on a teachers training course at the College of All Saints, just off White Hart Lane. I was the eldest in the class by many years and learnt the difficulties of being a mature student at first hand. When I qualified I started to teach at Parkhurst School in Tottenham. My career progressed through a number of schools in the Borough ending up as a Head Teacher at Earlsmead School in Seven Sisters.
I retired in 1993 and stood for Council successfully in 1994.
Life with Sheila.............
In the early years of the 70s I remember the sheer numbers of people at the house in Mt Pleasant Rd, and how it seemed like a mirror on the world with people like Allende's grandson and his family, seeking refuge from the tyrant Pinochet, staying there. It was like a family house combined with a campaign headquarters and what seemed like a continual party every weekend. There, Irish Protestants and Catholics could meet and work together as Socialists, which was impossible back in Ireland. Future politicals stars like Bernie Grant, Jeremy Corbin, Tariq Ali and Paul Boateng mixing with motor-bikes, envelope stuffing and the neighbours, who never complained..............everyone providing certain custom for the icecream van which always came at 3 AM in the morning............. but mostly I remember the warm welcome there for anyone with their heart in the right place.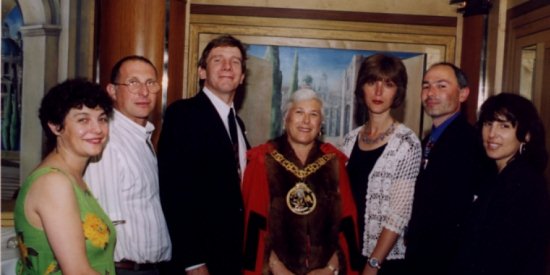 At the Mayor Making with most of my children and their partners, from left to right.
Susan, David, Paul, Veronique, Martin and Jenny. Unfortunately Linda, her husband Paul and Karen couldn't attend.